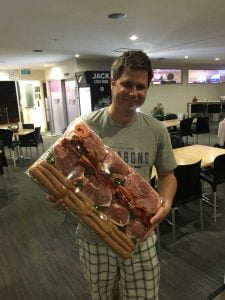 I lead a group of keen divers to Wolf Rock on Saturday (Nov 26) and Sunday (Nov 27). Most of the group met up on Friday night at the Rainbow Beach Surf Club where we enjoyed a couple of drinks, dinner and we were lucky enough to win one of the prizes which was a $50 meat tray.
Saturday morning, we met at Wolf Rock dive centre where we geared up, listened to the dive brief, and set off in the troop carrier down to launch the boat into the water. After a 1 hour boat ride, we arrived at Wolf Rock just a few kilometres off Double Island. The ocean was quite choppy so we quickly descended to the depths to find some beautiful Grey Nurse Sharks. The visibility was 5 – 10 metres so finding the sharks were quite hard. On the 1st & 2nd dive we saw about eight Grey Nurse Sharks, a school of Barracuda and a couple of large Bull Rays.
The whole group met up that night for an Italian feast at a local restaurant in town. This was an excellent night filled with good food, great company, and a couple of nice reds. I love nothing more on a diving holiday then to getting to know people and making new friends.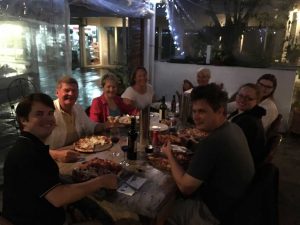 Sunday morning was the highlight of the trip. The ocean conditions were near perfect, the sun was out, there was a very slight current and 20 metres visibility. We saw heaps of Grey Nurse Sharks, a massive Grouper, Turtles, Eagle Rays, Moral Eels and lots of pelagic fish.
After washing up at the dive shop, filling out our log books and buying the standard 'badge of honour' dive shop t-shirt we said our goodbyes. The entire group agreed it was an excellent trip and are already looking to their next dive adventure!
Tour Leader, Rob McKinnon