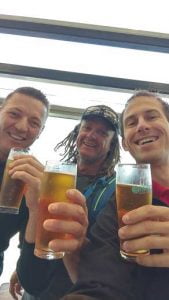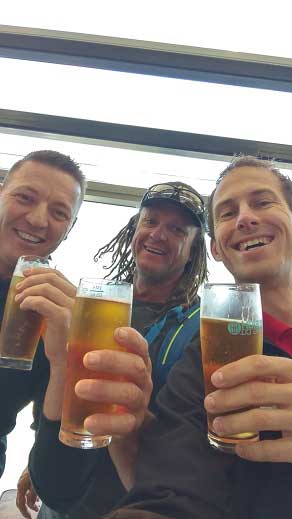 The excitement in the air at Brisbane International Airport was very evident, as we were all looking forward to a trip of a lifetime to Mexico!
I won't lie, Mexico is a loooong way from home. Here's the break down: 1hr drive from Mooloolaba to Brisbane, 3hr at the airport, 12hr to Los Angeles, 4hr stop over and then 5hr to Cancun, 1hr to clear customs and collect bags, and a 1hr transfer to Playa Del Carmen.
We arrived in Playa late on the 18th of May, checked into the Aventura Mexicana Hotel, dropped our bags and headed out for some Mexican food and drinks. Let's just say the first night was a little hectic. Half of the group got home around 2am, while the other half stayed out partying until 5am. Yes, there is a massive party culture in Playa. Luckily, there was no diving on the first day.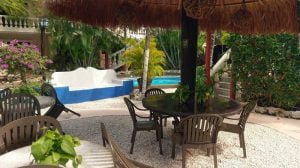 Day one was a chill out/look around/recovery day. Most of the group walked around town, did some shopping, checked out the beach, found the dive shop ect. We had dinner at El Forgon, an authentic Mexican restaurant that tourists rarely visit. For a group of 11, with 2-3 cocktails each and a massive feed, the bill came to approximately $260AUD.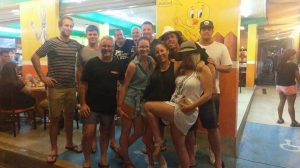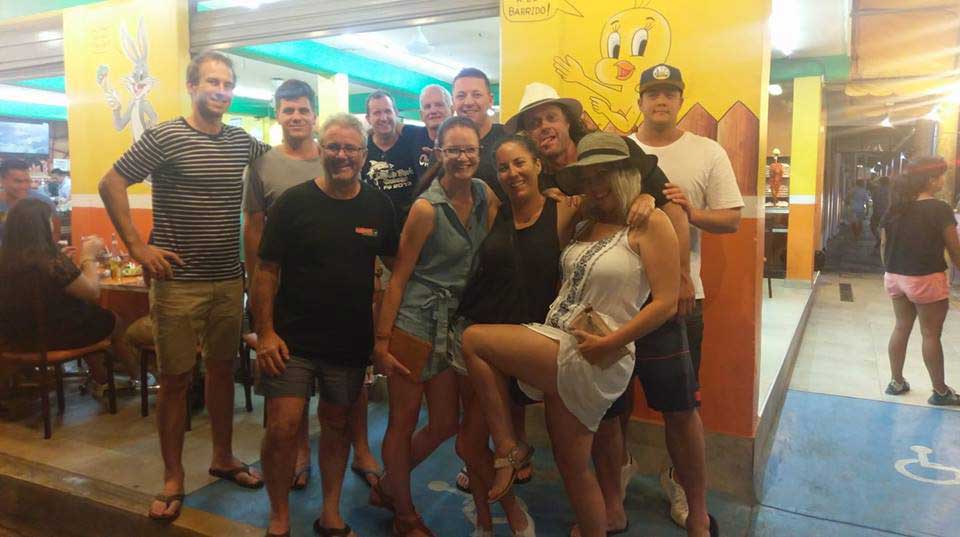 Our first day of diving was at Cozumel! Wow! What an absolutely magnificent day of diving. We met at the dive shop at 8am, boarded a golf buggy for our 5min trip to the boat. It was a 40min, choppy boat ride across the channel to Cozumel, but when we arrived it was like a lake. The water was crystal clear and a balmy 28C. The feeling of diving in board shorts is every divers dream.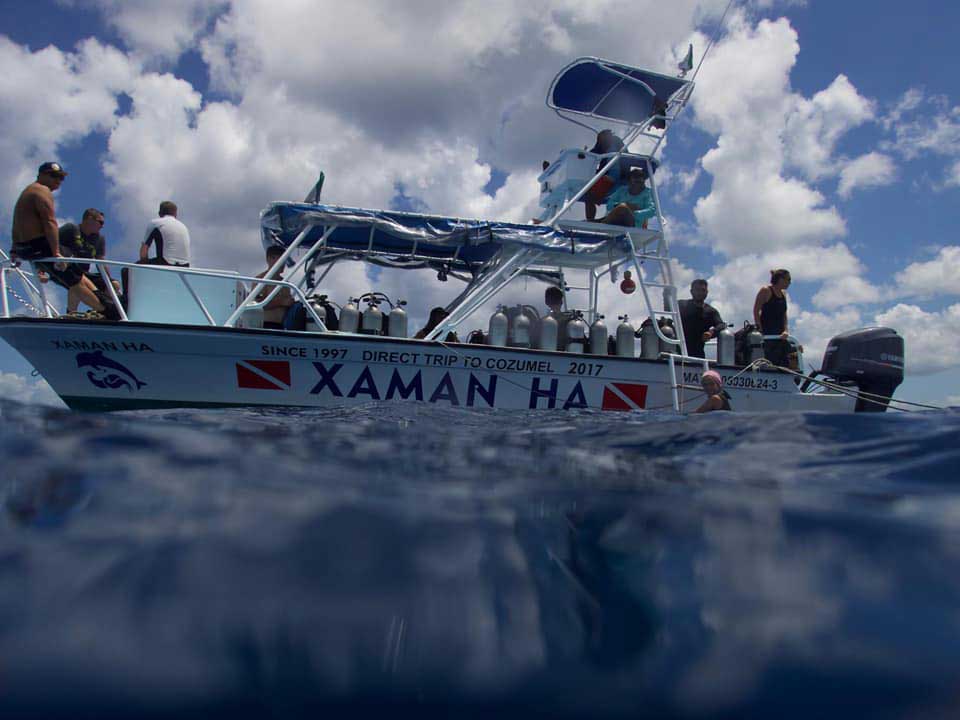 Our first dive was the world famous Santa Rosa Wall. The plateau starts at 15m and drops off to well beyond 150m. We had a very cruisy drift dive along the wall, and with 40m plus visibility, there was not much to complain about. We all saw the biggest lobster ever. To put it in perspective, it was approx 6 times bigger than the crayfish on the HMAS Brisbane.
The second dive was a C-53 wreck, which was sunk on purpose as a dive site 20 years ago. It lies in 21m of water and is 60m long. The vis again was 40m plus and we got to swim from the stern to the bow inside of the wreck.
Our next day was the groups first ever Cenote experience, and it was out of this world. We dived the Chac Mool system on both dives. Max depth was 14m, the water temp was 24C, and the dive time was 50mins. The fresh water is seriously so clear, you can't see the water in front of your mask. It's the closest thing to floating in space.
It is an extremely safe experience, with a lot of rules and regulations as to who is allowed into the Cenotes. There is a max of 4 divers in each group, with one guide.
There is not much life in the caverns, except for a few fish. The attraction are the magnificent formations of stalactites and stalagmites.
Day 3 of diving was back out to Cozumel. Like day one, we completed two drift dives, the first was at Palancar Caves. It was a series of coral bommies that you could weave in and out of. Again, 40m+ vis with so much color. We found a spider crab, turtle and lots of beautiful fish.
The second dive was Yucub, a shallow drift dive along a strip of bommies and corals structures with sand on either side. We found a seahorse, nurse shark, a few eels (one was massive), lobsters, shrimp, and again thousands of bright coloured tropical fish.
Day 4, another two dives in the Cenotes, however today we were diving 'Extreme Cenotes' The pit and Tajma-ha were mind blowing. If you thought the first day was amazing, well these were off the hook spectacular. The pit is a column of water that reaches 80mt.
Tajma-ha was a crystal clear labyrinth of cave systems with air domes every 60 metres. We followed the guides and they took us along the cave line. This cave was very shallow, with a maximum depth of 12 metres. This was the darkest cave we have dived so far.
On day 5, we dived in two unbelievable, completely different Cenotes. What a way to finish the last day of diving. Dive 1 was in Angelita Cenote, (which means little angel in Spanish) and it was epic! It is basically a column of fresh water that reaches a hydrogen sulphate gas cloud at 30m. So you descend until you reach the 30m mark and swim around completely mesmerised. The visibility above the cloud is unlimited, however once you drop into the cloud the visibility drops to 10cm. The images and video you can get are just out of this world!
On the way back to the dive shop we dropped into the tank filling station in the jungle. There are over 100 dive shops in Playa Del Carmen and only a few have compressors. There is a wholesale tank filling station that picks up empty tanks and delivers full tanks to the dive shops each day. I've never seen so many tanks!! There were over 1100 tanks, 6 compressors and 3 nitrox membrane systems.


Dive 2 was at Dreamgate. Wow! This was just amazing. Visibility was unlimited, however it was quite a dark cavern for 90% of the dive, so it's basically a night dive. Max depth was only 6m, however we travelled close to 800m around the circuit. It was quite a tight, silty environment, so trim and buoyancy had to be spot on. The underwater structures (stalagmites & stalactites) are simply spectacular! The stalagmites & stalactites formed tens of thousands of years ago, when the caverns were dry. So accidentally breaking one with your fin means that it will never reform.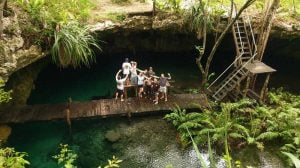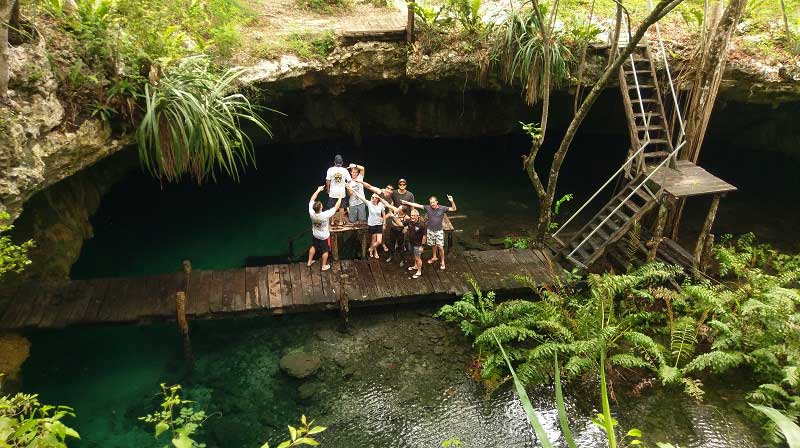 On our return to the dive shop we washed all our gear and hung it up to dry overnight. We thanked the staff for an unbelievable 5 days of diving! It was time to hit the cocktails back at the hotel.
The number one club in town is Coco Bongo. Entry is approximately $100AUD with unlimited drinks and 10 shows (one every 15mins) between 10pm and 2am. The club closes at 4am. It was an awesome night with shows like Batman, Star Wars, Queen, Mambo #5, The Beatles, and The Mask.
The next day was very much a recovery day for most.
Our last day included a tour to Chichen Itza. Chichen Itza is said to be constructed around 350AD by the Mayans. It is a huge pyramid type structure, however they built it with 91 stairs on each of the four sides, which totals 364, plus the top section that marks 365 days of the year. They are also known to have calculated the speed of sound. On one side of the structure, if you clap your hands, the echo of a bird is produced. Close to the pyramid is their sporting field. It is said that the ball was made of rubber and weighs 3kg, there were 7 players on each side of the field and the only person who could score a goal was the captain. He had to get the ball through a hoop (like in basketball), and it was about 6m off the ground. There are acoustics built into the sporting field too. When you clap, you hear a sequence of 7 more claps. If you stand in the middle of the pitch, 14 claps are heard. The captain of the winning team was always sacrificed to the gods at the completion of the game.
On the way home, we stopped at a colonial town. It was like taking a step back in time. The doors are all three times the size of a standard door, as the Spanish use to ride their horses into their houses. There was an old fortress that is now a church, and a lovely garden complete with a water fountain.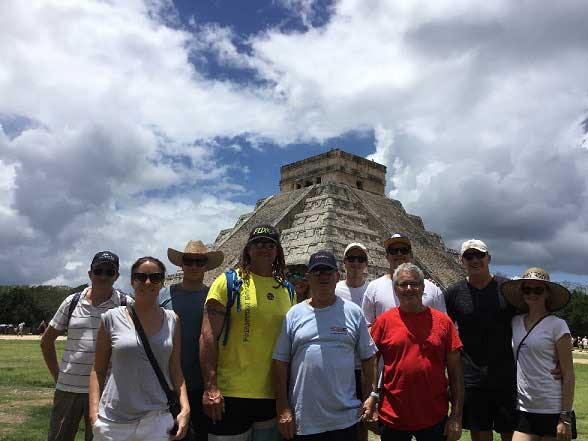 Our last night in Playa was at a lovely restaurant in town called Aleda Corazon. It was a fancy Mexican restaurant that looked like your standard establishment from the outside, however once you walked out the back to the tables, it was situated in a beautiful lush garden. A Cenote was also hiding amoungst all the trees and shrubs. Great food, great service, topped with great company; it was a fantastic way to finish the holiday.
The next morning, we caught a shuttle bus to the airport. Amy, Christian, Kayla, Jason, Sonya, David, and myself had 30 hours of travel before arriving back in Australia. Ian, Andrew, Carl, and Paul were off to Miami to continue their holiday for another week or two.
The diving was 10/10, the dive shop, Tank-Ha Dive Center was 10/10, the food was excellent, and the hotel was very central, with clean rooms and great cocktails at the bar. The group was easy going and fun, so overall an amazing holiday. I would like to thank each one of you for creating a trip of a lifetime… I dare say we'll be back to Mexico in 2021!!
Tour List:
Sonya Beyer

Paul Clarke

Jason Debiasi

Andrew Frost

Kayla Howarth

Carl Maubach

Christian McGuire

Ian McKinnon

David Patterson

Amy Roach

Mike McKinnon (Tour Leader)