If you are a diver looking for the ultimate diving experience in Australia, then you will want to head to Mooloolaba Reef. There is so much to offer and anyone can enjoy it.
What is the Mooloolaba Reef?
Mooloolaba is a coastal suburb just off of Queensland, Australia. The Sunshine Coasts some of Australia's best diving spots and experiences, especially at the hidden gem of the Mooloolaba reef. 
Mooloolaba Reef offers two famous pinnacles, which are incredible for diving. There, you can find everything your heart could ever desire. 
What can they offer?
There are two pinnacles at Mooloolaba Reef that are easy to spot as they rise up from the sand. One pinnacle is 24 meters and the other is 16 meters. They are easy to navigate and no matter which one you go to, these hidden gems will blow you away. 
At the Mooloolaba Reefs, you can find anything and everything from tiny nudibranch to schools of pelagic fish and eagle rays. You will likely also be able to spot turtles and wobbegong sharks on your diving experience. There is a species of fish or coral to blow anyone away.
There are minimal threats to the Mooloolaba Reef, which means that the coral reef is very well preserved. Therefore, you will be able to witness thriving and vibrant coral, which is very difficult to find in the open water now.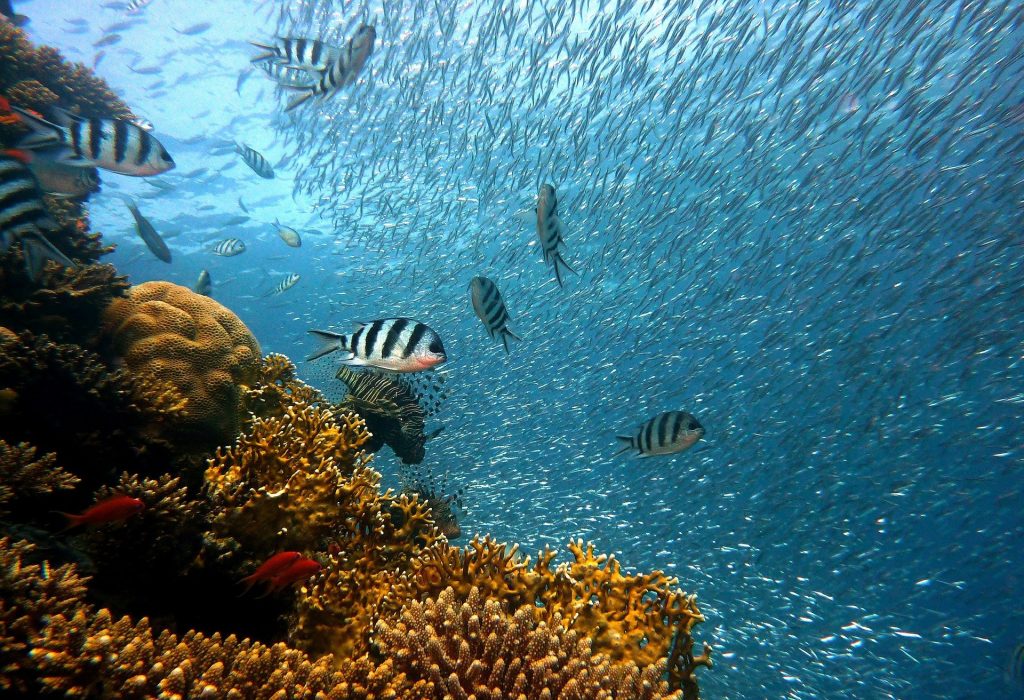 Who are the local Mooloolaba Reefs for?
Not every reef is safe enough for every type of diver. The great thing about the hidden gem of Mooloolaba is that any diver can enjoy the fish, the waters, and its amazing experience. 
It is safe for any level of diver, from intermediate to beginner. The maximum depth is 18 meters, which is plenty to play with. No matter if you are new to diving or have experience around the world, along with your qualifications, this area will satisfy your diving needs.
Many sites to choose from
There are 20 different sites to choose from at Mooloolaba Reefs. Between the two pinnacles, you will find varying depths and lots of types of fish and coral. 
Some of the best include:
Clown Reef
At Clown Reef you will find the real Nemo's of the ocean. The depth at Clown Reef ranges from 12 to 18 meters. An Open Water is required to dive here due to the sheer drops and mid-range visibility. During the summer you can find a visibility o 10 meters and up to 15 meters in the winter. 
Hanging Rock
The famous Hanging Rock dive site is a five-hour round trip, where divers can enjoy viewing the enormous rocky outcrop that hangs over the sandy beach below. With a guide, any level of diver can enjoy Hanging Rock.
Nudi Junction
Nudi Junction is the spot to go to Mooloolaba if you want to find nudibranch. It is deeper than Clown Reef, with a maximum depth of 27 meters. The deep waters require an Open Waters to dive here. You will find other species here too, but you will be surprised at how many nudibranch you will witness. 
Tunnels
The Tunnels are just like a mini Grand Canyon at Mooloolaba Reefs. With a depth range of 12 to 19 meters, you can expect Open Water qualified divers to dive at the Tunnels. There is plenty of room to swim. For the more adventurous divers out there, you will find two very tight tunnels at the base of the rock. 
Wonderland
Should you be a fan of soft and vibrant corals, you will want to head to Wonderland. There, you will find a maximum depth of 16 meters and be able to swim and dive among some of the world's most beautiful corals. The anchor at Wonderland sits at 10 meters, which is ideal for experienced to confident divers. 
Ship Rock
One of the deepest dives at Mooloolaba is Ship Rock. To dive in these 32 meter deep waters you will require an Advanced or Deep diving qualification. You will find a ship that sunk over a hundred years ago. You can swim between its walls and have fun for hours. 
There are plenty more sites to choose from at Mooloolaba, depending on your preference and experience level.