What a magical place… I first visited Lady Elliot Island on a school trip back in 1997. I remembered it was one of my favorite diving destinations (albeit I had only dived in a few places).
Day 1:
Once you take off from Hervey Bay airport in a light aircraft, and you see the enormous Fraser Island on your right, in no time at all you can see the magnificent Coral Cay appearing from the vast ocean.
After a thrilling landing on the short grass airstrip, you disembark and are welcomed by one of the friendly staff. They take you on a 30 minute tour of the resort, explaining about the snorkeling, diving, restaurant, accommodation and other activities.
Before we knew it it was time for our first dive of the trip. It is a short 2 minute walk from your cabin to the dive shop, where all the tanks and weights are ready to go. We setup our equipment, donned our wetsuits and hopped into the back of the van. The dive briefing is provided on the 3 minute transfer to the boat departure location (which is always on the Western side of the Island near the lighthouse). Once we boarded the boat, the dive sites are anywhere from 3 – 10 mins away. There were lots of jokes, laughter and smiles all round. We were allocated buddies and dive guides, and were given the 'OK' to jump in.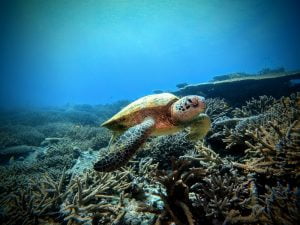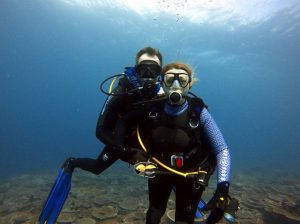 Descending down the mooring to a sandy bottom in 5 metres of water, was a nice relaxing start to the dive. Water temperature was 25 degrees, and visibility was around 18 metres. After checking ears, weighting, and general comfort levels, we started our dive. We found all kinds of amazing stuff! Rays, Grouper, thousands of glass fish, nudibrachs, red emperor, butterfly fish, surgeon fish, the list goes on and on. A few group members were getting low on air, so up they went, while the rest of us enjoyed a 60 minute dive. Maximum depth was 18 metres, with most of the dive spent around 12 metres. Once both groups were back on the boat, we were sharing stories about what we saw and how amazing the dive was. We had our own boat for the 5 days of diving, so that meant we could leave our fins, and weights onboard. Back at the dive shop, we washed our gear, and stored it in the lockup area. It was a very well organised, hassle free diving experience.
Every evening around 5pm, there are Sunset drinks on the beach at the lighthouse. What better way to finish the day with a glass of bubbles in your hand, looking out over the clam, clear ocean as the sun drops below the horizon (a perfect photo opportunity).
We made our way back to the main resort where dinner was waiting for us. A smorgasbord of options that will entice anyone's taste buds. Soup, all types of entrees, beef, lamb, chicken, pork, curries, steamed veges, salads, bread rolls, cheeses, and 3 different desserts each night. It's basically all you can eat.
There is a nightly rotation of presentations after dinner including Manta Ray, Turtle, Bird, and Humpback Whale topics to name a few. Most of the group joined in on one of two of those over the week. With the bar closing at 9pm, no Netflix/music or internet, its either read a book or its bed time.
Day 2:
We were all up around 6:30am for breakfast, which is around 9 hours sleep (how good is that). We met at the dive shop at 8am, and started getting ready. The dive manager informed us that it was calm enough to travel to the Eastern side of the Island. The weather has to be almost perfect for them to dive the Eastern side. You can experience strong currents, and ocean swells. So the dive guides must be confident with the groups diving skills.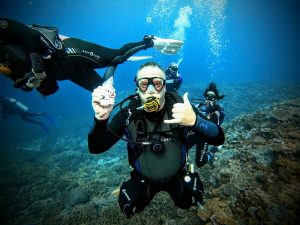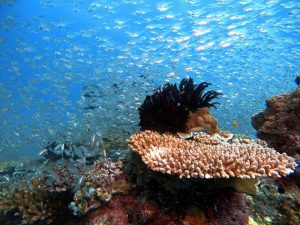 We entered the water at 'Tubes' and drifted to the 'Blow Hole' as it was a Northerly current. Wow what a dive! Visibility was 25-30m, water temp 25C, and approx. 1 knot current. We saw 3 different types of reef sharks (White, Black and Silver tip), a large Grouper, Maori Wrasse, Turtles, beautiful fans, massive schools of tropical fish, and two majestic Manta Rays! As we reached the Blow Hole, we dropped in and explored the cave. Thousands of bait fish, and pelagic fish were all cruising around. The current had picked up towards the end, and we were almost horizontal on the safety stop. The group was absolutely buzzing with excitement when we got back onboard. We were served morning tea (cakes and biscuits) on the way back to the lighthouse. We pre-arranged double dives, which meant we didn't have to go back to the dive shop. The staff brought full tanks over and took the empty ones back. After a one hour surface interval, we got back on the boat and dived at Manta Bommie. We encountered 8-10 Manta Rays and a host of other critters.
We had the afternoon free for a bit of R&R or to head back out for a snorkel. We all met up at Sunset drinks and shared our afternoon stories. I remember one person saying they came face to face with a Manta Ray while on a snorkeling safari (it was doing barrel rolls right in front of them).
Day 3:
Day three was much the same as Day 2, we were able to explore the Eastern side of the Island again, another cracking dive!
When we got back from Sunset drinks, we were told that there would be a turtle hatch-ling release at 7:30pm. It was very late in the season for 49 of these 6cm little guys. Nonetheless, all guests on the island walked down the airstrip to the Northern beach, and were given a briefing about how it works. Basically they told us to line up in two rows (to create a pathway to the ocean), the staff member was down near the waves, and had her torch on. Once they were released the scurried towards the light. They go quite quick considering their size. Within 5 – 7 minutues they had all reached the ocean to start their new life.
Day 4:
We completed two dives on the Western side of the Island – it was a little too windy to travel to the other side. Again, lots of Manta Rays, Turtles, corals and tropical fish. Visibility was 15-20 metres.
Day 5:
We arranged a non-diving day today. Most of us used this opportunity to snorkel in the lagoon on the Easter side. The lagoon can only be snorkeled one hour before and after high tide. At low tide they run reef walking tours, as it is only ankle deep water, and in a lot of areas the reef is exposed. We also organised a behind the scenes tour of the Island. This was fascinating. They are essentially completely off the grid. They produce their own solar power, fresh water, treat the waste, and compost the food scraps. The maintenance staff work around the clock to ensure the whole resort is functioning well.
There were a few members of the group that opted for an extra dive or two – some people just can't get enough diving….
Day 6:
Today was the last dive of the trip, and we dived the Western side, as the wind was up around the 15 knots. It was an easy, stress free last dive of the trip. We saw a few passing manta rays, garden eels, turtles, a tawny nurse shark, and a few other critters.
I think we were all a little sad to be sitting on the beach for our last Sunset drinks. It was however a magnificent Sunset, the colors in the sky were absolutely stunning.
Day 7:
We were scheduled for boarding around 10:45am, for an 11am flight back to Hervey Bay. All planes were on time, and after a final goodbye and thank you to all the staff, we took one last group photo. There were blue skies all the way back to HB, with a smooth landing on the tarmac. We all collected our bags, said our goodbyes to everyone and left the airport calm, relaxed and refreshed.
I would like to thank the whole group for coming with me to Lady Elliot Island. It was a fantastic experience and we all got along very well. I hope you enjoy my video….
Mike McKinnon
3000+ dives
Diving since 1997
SSI Platinum Pro Instructor Certifier