Last Month we were proud to announce that we officially became a Blue Oceans dive centre. A huge achievement that is earned as a dive centre. Being a part of this movement is a privileged that is earned by showing our commitment to help protect the environment we all love so much … THE OCEAN above and below the surface.
Being a Blue Oceans Dive Centre, we support and follow a philosophy that supports the conservation and sustainable use of aquatic environments, including oceans, seas, coasts, and waterways and their magnificent diversity of plant and animal species.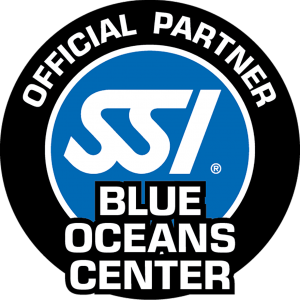 What is Scuba World doing to help protect the environment? We ensure the correct waste disposal of:
Paper
We re-use any paper that we can otherwise it gets recycled properly. We have integrated systems to make sure we minimise the use by having digital receipts, online waivers, and digital log books.
Soft Plastic
We have asked our suppliers to not use single use soft plastic where possible and then any that we do get we recycle at Woolworth's soft plastics recycling bins.
Batteries
We make sure our used batteries are taken to a local scrap metal facility that has the proper facilities to recycle batteries
Light Bulbs
Not often do we have blown light bulbs but if we find you do and need to dispose of it correctly.
Glass & Cans
We have onsite collection bins for glass bottles and cans that are taken to Containers for Change which we then use all profits to donate and support Sea Shepard Australia
Engine/compressor oil
During maintenance/ general upkeep of our boat and Air/Nitrox compressors we take any waste oils to a waste oil recycling center.
In October last year we moved to a new location and during the renovations to make an epic dive shop we made sure to take measures to save energy by having:
Energy-efficient lighting
Insulation
Energy-saving electrical appliances
Water conservation
We make sure we minimize our plastic waste in-store and onboard our boat by having:
No plastic bags
Sorry you will not be walking out of Scuba World with a plastic bag in hand. If needed, we are happy to reuse one of our boxes from our suppliers so you can carry it out.
No plastic bottles
Reusable metal bottles for sale, as well as a cold-water fountain available for everyone to use or top up their own bottles
No plastic cups
Onboard our boat we do serve warm cups of coffee and tea, but every diver is given their own reusable cup to use for the day. Unfortunately, you do have to give them back though. 
Re-use
Any packaging products we get such as bubble wrap, we keep for future packaging we need to send.
You also will not be able to find any plastic plates, plastic cutlery, plastic drinking straws, and Styrofoam products.
By asking our suppliers such as Aqua Lung, Apeks, and Sharkskin to avoid using unnecessary plastic products in packaging when sending items to us so we can minimise waste they have been very supportive.
We also have 100% recycled toilet paper in all our bathrooms from the company Who Gives a Crap which is completely plastic free and supports those in need by sharing 50% of their profits to making toilets for people in need.
Of course, during cleaning, we try and use environmentally friendly cleaning products, such as natural products like vinegar and eucalyptus, or commercial products that are ecofriendly including brands like, Green Action, Earth Choice, and Eco-Store. However, we are still working on this with other products we use like our wetsuit and gear wash. STAY TUNED!
Smoking is also prohibited within the store and on the dive boat.
It is not just Scuba World as a company, but our staff have also committed to help protect, conserve, and set excellent examples to our fellow divers by:
Wearing reef safe sunscreens
Using environmentally friendly shower products
All have a reusable water bottle
And of course, picking up anything that they find on a dive that does not belong.
What can Scuba World as a Blue Oceans centre offer you?
Scuba World now offers all 6 Marine Ecology Specialties that will entail the Blue Oceans Philosophy for you to be a part of. When you download the MySSI App you have free access to the Blue Oceans Program which introduces the many global challengers our ocean faces and how to make a difference as an individual

Join us in out clean up events both above and below the surface each year and support local projects and organisations that do the same thing
Always leave dive sites clean, and report anything to authorities if needed. And of course, feel free to use some of that amazing recycled toilet paper.
Interested in more information feel free to contact us on 5444 8595 or info@scubaworld.com.au
CLICK HERE to be taken to the Blue Oceans site.
Hope to see you underwater soon.
Leila Barnsley ~ Scuba World Instructor