On the 25th March 2020, an announcement was made by our Prime Minister regarding social distancing restrictions. Unfortunately, this meant we were not able to run a charter boat or any courses during this time.
The team at Scuba World have been running the dive shop limited days and hours each week to make sure everyone was still able to have a happy place to come to and someone here to talk to about how much they also miss diving while getting tanks filled, gear serviced, and stocking up on much needed dive gear.
Fast forward 56 days and we have just taken out our first group of very excited divers to the ex-HMAS Brisbane Conservation Park and yes it was AMAZING.
We are so excited to share this experience with you.
Arriving at Scuba World at 8:00 am greeted by very smiley faces everyone super ecstatic about going for a dive. But of course, no hugs or handshakes where exchanged which was a bit hard for some of our very loving Club Members. After the divers had finished setting up their gear we walked down to the boat and all had assigned "social distancing" seating. It was raining on the way out to the dive site but who cares when we are all about to get wet anyway right!?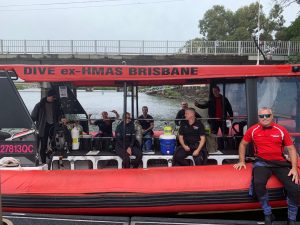 When we arrived at the conservation park, we had near perfect conditions; Wind was forecasted for 10 – 15 knots, Swell was 1.5 – 2 meters, Air and Water temp a toasty 24 degrees.
The feeling of rolling back into the water was so amazing, and to see 100 + bat fish keen to greet you in the 20+ meters of blue water was surreal.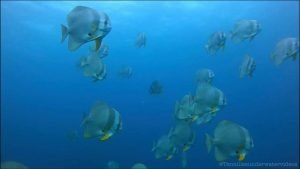 On our dives we encountered all the usual suspects on the wreck including the resident Hawksbill Sea Turtle and Groupers like Boris. We also saw schools of King Fish, Trevally, and Jew Fish along with spotting a Guitar Shark, Reticulated Ray, Eagle Rays, and so much more! Jealous yet?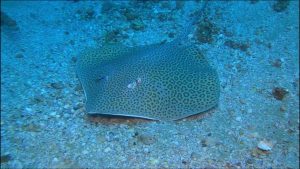 The wreck itself seemed in a great condition healthy growth and no visible damage apart from the unfortunate findings of plenty of fishing lines, hooks, sinkers, and even an anchor and all its chain/rope attached. We of course removed these foreign objects off the wreck, but it was a shame to see that people had been illegally fishing in the marine park zone.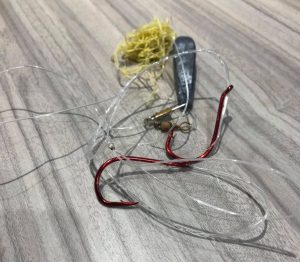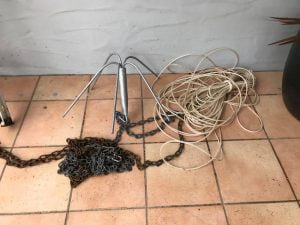 Before our second dive we have a 1-hour surface interval, the divers chatted away about the amazing sites, photos they had taken and raved about the delicious food options available. Each diver was given their own "lunch box" with a freshly baked savoury danish, sweet cookies and dried apples & sultana pack. The next closest thing to a barista we could get onboard was the owner/skipper Mike, he had a range of hot gourmet drinks and soups available for you to choose from.
When we got back into the river we disassembled our equipment and cruised back to the dock where we would then go and wash up our gear knowing that it wont be so long next time was also a massive plus to the day.
Out of the back deck the dive log was waiting for us along with hot hand towels, beverage of your choice (wine, beer, soft drink, or juice) and each diver got to select their FREE gift.
Everyone thoroughly enjoyed themselves and the experience of being the first divers back on the wreck since restrictions lifted.
The team here at Scuba World would like to take this opportunity to thank you for your continued support and we look forward to diving with you again.
To see our current diving calendar and to book CLICK HERE
Until more social distancing restrictions are lifted our dive are limited to 7 customer per trip so get in and do not miss out on a fantastic first-class experience here at Scuba World.
Happy Diving!
Chris Maxwell ~ Scuba World Instructor