What is your favourite wildlife show on TV? We love them all, the big cats, the polar bears, the forest primates – above all  however, we love marine life. When you see the colourful clownfish, the darting bait fish, and the exotic octopus, we know you'll fall in love too and once again be drawn to the immense magic of the underwater world. 
At Scubaworld we offer customers a taste of marine magic that will last for a lifetime. The sunken warship, HMAS Brisbane makes the perfect habitat for a diverse range of aquatic wildlife that you will get to see up close, like never before. Read on for more information.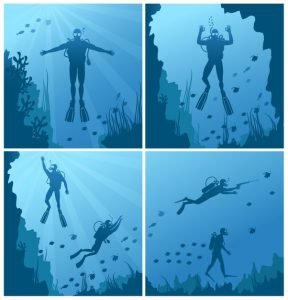 THE MARINE LIFE 
The HMAS Brisbane is an artificial shipwreck sunk in the Brisbane conservation Park to attract a host of marine life to curious shapes and comforting crevices.  
Back flip of the boat and plunge into a magical underwater world you scarcely knew existed. As you approach the bow of the ship you will see clowning dashing and cascading in all directions. They don't mind that you're there, they just don't know you too well. Deeper into the crooked confines of the wreck you will find more magnificent creatures. 
In this part of the ocean there are many species of marine animals that will surprise you with their colours and camouflage. Spot the Strathy scorpion fish, the majestic lion fish, and the sheltering octopuses as you gently make your way through the massive warship. 
WHY DIVE WITH US?
Even if you've dived before it's still reassuring to have experienced professionals around you who can guide you and ensure you have a safe and enjoyable experience. At Scubaworld we make this a high priority. It's important to us that you experience the underwater magic in comfort and safety. 
We do this by using a team of highly experienced divers and professionals. Our divers are not only highly experienced scuba divers, they are also very knowledgeable about the HMAS Brisbane site and the creatures who live there. You will always feel like you're in safe hands with us, because you will be. 
As well as providing a safe environment for your experience we also want to make it as enjoyable as possible. That's why we provide ourselves on offering customers the highest level of satisfaction. To facilitate this we offer a range of diving options and services to customers to suit particular needs. 
DIVING INFORMATION
The experience of diving at the HMAS Brisbane site is all about the magic of the dive. We don't want you to get embroiled in a complicated booking process or price structure. That's why we make booking at Scubaworld as straightforward as possible. 
Book ahead using the website or by phone. Tell us the number of people in your party and prepay. We will then organise the dive for you so that everything goes ready when you arrive. Forget about booking or paying on the day – although this is an option. If you book ahead you can concentrate all your energy on this magical experience. 
We are also sensitive to the needs and requirements of different customers and sensibilities. That's why we make every effort to ensure comfortable trips on the water and to limit sea sickness. It doesn't matter if it's one person on the dive or many, we will still run and offer you refreshments afterwards. 
WHAT TO EXPECT
Unfortunately not everyone will be able to scuba dive at the HMAS Brisbane site, this is due to licensing regulations. To scuba dive here you will have to obtain a certificate as an open water diver. If you have one of these you will be able to dive up to 18 feet at the site. 
However, this doesn't mean you can't still dive at the site and enjoy the magical underwater world. Wreck certification is not required at this site, and you can still dive 6 meters or over depending on experience, to visit the wreck site. You will be allowed to dive at the site for a maximum of 50 minutes – we have nitrox available. 
CONCLUSION 
The HMAS Brisbane is an artificial wreck site that forms part of a marine conservation project. The disused warship makes the ideal home for a range of colourful and exotic marine creatures that you've probably seen on TV shows and in aquariums. Now enjoy the spectacular live show at Scubaworld.
Whether you are an experienced and certified scuba diver, or a newbie who wants the experience of marine observation for the first time, Scubaworld can facilitate your aspirations. Join us as an individual or a group and dive with a team or professionals that are fully trained and sensitive to individual needs.