Scuba World, a family owned and operated scuba diving school located on the Sunshine Coast, offers dive training for all levels. We're here to help you make the most of your diving education!
Did you know that 72 percent of the world is covered in water? The only way to explore much of it is by diving! Australia alone has over 25,000 km of coastline to explore, and we're ready to teach you how.
Regardless of the level at which you begin, we have a class to increase your knowledge and comfort level for diving.
Our introductory course includes two full days of pool training, as well as four boat dives on the Mooloolaba Coral Reefs! Upon completing the course, you'll have earned the internationally recognised Open Water Certification and 72 per cent of the watery world in now your oyster.
If you're ready for the next step, we offer continuing education, diving refresher courses, and more for you to choose from. Our courses include Deep Diving, Diver Stress and Rescue, Drysuit Diving, Nitrox, Navigation, Night & Limited Visibility, Perfect Buoyancy, and Wreck Diving.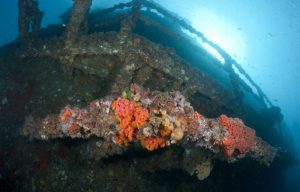 Ex-HMAS Brisbane Wreck
No matter what your level of scuba, as long as you're certified we'd like to invite you to join one of our explorations of the world-famous ex-HMAS Brisbane wreck – now considered one of the top five dive sites in Australia. We recently contributed this diving wonder to an article by Bupa Travel Insurance on 'Scuba Diving Adventures Around Australia'.
The ex-HMAS Brisbane wreck was scuttled in July 2005. Since then it's created an artificial coral reef system that rivals the best in Australia. Due to the depth (5 – 28 metres) and how the wreck was prepared before sinking it's suitable for all levels of diver experience. This gives any diver the opportunity to explore this amazing dive site in a safe environment. The experience overall is hassle-free. The dive site is a very short 20-minute boat ride from our shop we have plenty of free parking and we're located right on the water.
Mooloolaba Coral Reefs
Mooloolaba Coral Reefs are some of the most gorgeous coral reefs near Australia, and Scuba World can take you there! Different dives require different kinds of training and levels of skill.
With your Open Water Certification, you'll be able to explore places like Hanging Rock, which features sun corals, Moray Eels, and schools of tiny tropical fish.
More advanced divers can explore any of the Open Water Certification locations, as well as a few more advanced dives, like the Pyramids or Ship Rock, which is a ship-shaped rock covered in marine wildlife.
So what are you waiting for? The ocean awaits!