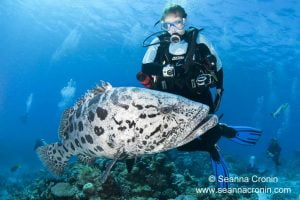 An enthusiastic group of Scuba World divers gathered in Cairns in October to begin an adventure to explore the Coral Sea aboard the MV 'Spirit of Freedom'.
After a night in Cairns ,the excitement built as we boarded light aircraft for a very picturesque low level scenic flight north over the barrier Reef to Lizard Island.
After transferring to the boat and attending to formalities, we were keen to get wet, completing 2 dives on the Ribbon Reefs at "Coral Princess Bommie" and "The Monolith" before settling in to our accommodation while steaming overnight to Osprey reef.
We woke on day 2 moored at my favourite site, "North Horn" and after first breakfast, we dived "Povona" on the western edge of the reef. After second breakfast the famous shark feed at "North Horn" was experienced with spectacular a feeding frenzy of reef sharks and the resident Potato Cod (the Cod move the sharks out of the way when required).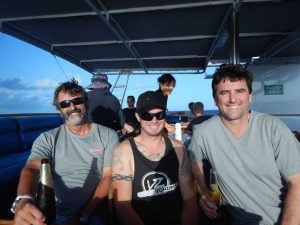 Morning tea was followed by relocation to" Blue Marlin Wall" for another dive, and after lunch "Admiralty", were we remained for a night dive, finding the hidden Admiralty anchor once again.
After first breakfast on day 3, we had relocated to "False Entrance" for the first dive of the day followed by "Castles" reacquainting with the Garden Eels, and finally the site named "Around the Bend" were we encountered some brisk currents and a Manta Ray.
The last day began with a couple of dives at "Steve's Bommie" ending in a social couple of drinks and overnight return to Cairns
Thanks to, Dave and John, both excellent divers, and Scuba World for promoting a great trip.